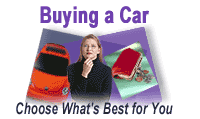 Because cars are the second biggest purchase most people make in their lives (after their homes), they merit a good deal of financial attention. If you want to be as well-informed as possible when buying a car, you've got to know everything that's involved. MsMoney.com can help by:
Determining a car's place in your overall financial picture
Offering tips for buying a car (new or used)
Unraveling the potentially mysterious matters of financing and insuring a car
How does a car fit into your life, financially? Before you buy, you should have some idea of what kind of car you can afford, but to get more specific, you need to answer certain questions.
First, how much will a car really cost? People tend to focus on the purchase price and fail to honestly estimate the added costs, such as insurance, repairs, gas, and parking.
Second, how important is buying a car in your overall plan? You may think a car is a necessity for you, but so is saving for retirement. You need to determine how high a priority owning a car is, compared to your other financial goals.
In addition to all the information we provide, you can use our car tools for specific information, including Paying Cash vs. Financing, and What term of loan you should choose.

There's nothing like that new car smell, but it almost always makes more financial sense to opt for a used car instead. Most new cars depreciate in value by 40% in their first 3 years. Find out the pros and cons of new and used cars to see which one is right for your needs. You can also use any of our car tools to make your decision, including the New vs. Used Car Tool, the Monthly Payment Calculator.

How do you know what kind of car to buy? Will your decision be based on appearance and gas mileage? Have you stopped to consider that the best investment would be a car that's reliable and holds its value over the years? In this section, we give you the information you need to make an educated decision--from research tips to pricing and buying options--along with access to our numerous auto tools.

You know that buying a used car is a better investment than buying one new, but what's a good price? Many factors are involved in determining the right price of a used car, and we'll take you through the steps, from deciding what kind of car you want to finding it. We'll also give you the resources and tools you need to learn the value of used cars and evaluate their condition. It doesn't have to be expensive--simply checking the title of a car can determine if it's the right one for you.

Negotiating the price of a car is probably the most intimidating part of buying, but there are ways to make it easier. Resources such as the Kelley Blue Book are now online, and new car-selling Web sites are popping up at an astonishing rate. Find out which ones are best for new car purchases and which work better if you're buying a used car.

A new car may cost more than a used car, but you need money before you can buy either. You don't have to save the whole amount--you can also take out a loan or lease a car. Find out what's involved in these options, from finance terms and interest payments to time- and money-saving tips. You can also use our Finance vs. Cash Tool and our Lease vs. Buy Tool to figure which option best fits your needs.

Insuring your car is required in many states and just makes good financial sense. In this section, we give you an overview of the four main types of car insurance, show you the factors that determine the cost of insurance, provide advice on how to lower your insurance costs, and let you in on some tips for finding affordable insurance. Get a free auto insurance quote.